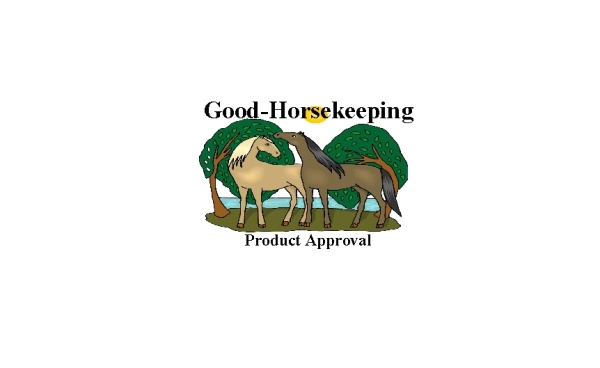 Product Reviews

Products Reviewed Have Received The
If you would like your product reviewed please send it to
Equine Seniors

c/o One Horse Press at 70883 39th Street, Paw Paw, MI 49079

Please send along product information - including sizes available and suggested retail price.  Please include your contact infomration.  Please allow at least two months for your review to appear.  For supplements, please send at least a one-month supply.
​Please download our product review submission form below
Product Review Submission Form
Disclaimer –
These reviews are for information and an editorial opinion review only.  Injury or illness from any of the products reviewed are not the responsibility of www.equineseniors.com or One Horse Press.  Always thoroughly read the instructions before using.  With supplements test feeding a small amount before feeding the entire dosage.  Always be careful when feeding herbs, as horse, like humans, can be allergic to certain herbs, etc.  And never mix numerous herbal products without consulting a veterinarian, first. 
You may also want to visit the National Animal Supplement Council (NASC) website

for a list of equine supplement manufacturers who belong to the council

(their products have received the NASC seal.  

Products Reviewed                                                                     Books Reviewed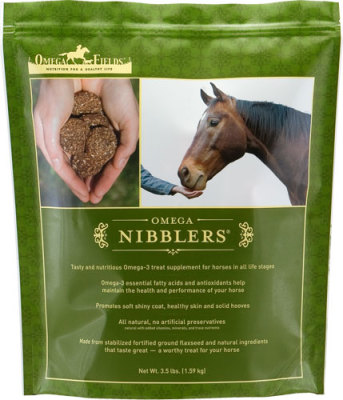 ​These treats are a great way to get Omega-3 fat into your horse.  They contain stabilized flaxseed and are 30% crude fat.  We like the size and shape and are easy for our equine seniors to eat without fear of choking.  It is nice to have a treat that is beneficial to you horse - as Omega 3 greatly supports the health of hooves, joints, skin and haircoat.

Sizes available:  3.5 pounds and 15 pounds
​Retail Price: Starts at $24.95 for 3.5 size
​Manufacturer:  Omega Fields
​For more product information click on the URL below
The Compassionate Equestrian – 25 Principles To Live By When Caring for and Working With Horses
By:  Allen M. Schoen, DVM  and Susan Gordon
Publisher:  Trafalgar Square
Anyone who wants to call themselves a "horseman" or a "horsewoman" should be required to read this book in order to do so . . . .  The twenty-five chapters (each devoted to one of the 25 principles) range from "Treating Animals as We Would Like To Be Treated" and "A Compassionate Approach To Training and Showing" to "Recognizing Subtle Signs of Resistance" and "Compassion For The Global Herd".  In addition, the ongoing story about Willie is invaluable for anyone who has acquired an older horse with both physical and emotional baggage.  Much of what Susan Gordon shares we have been applying to our senior show horses, and to see it crystalized in her entries about Willie in the book confirm that using compassion and treating horses like we want to be treated is a the better way.  Also beneficial are the Questions To Consider following each chapter/principle.  These offer the reader the opportunity for application of the principle to their own equine relationships/experiences.
​For more book information click on the URL below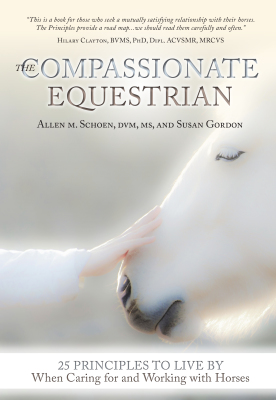 www.HorseandRiderBooks.com​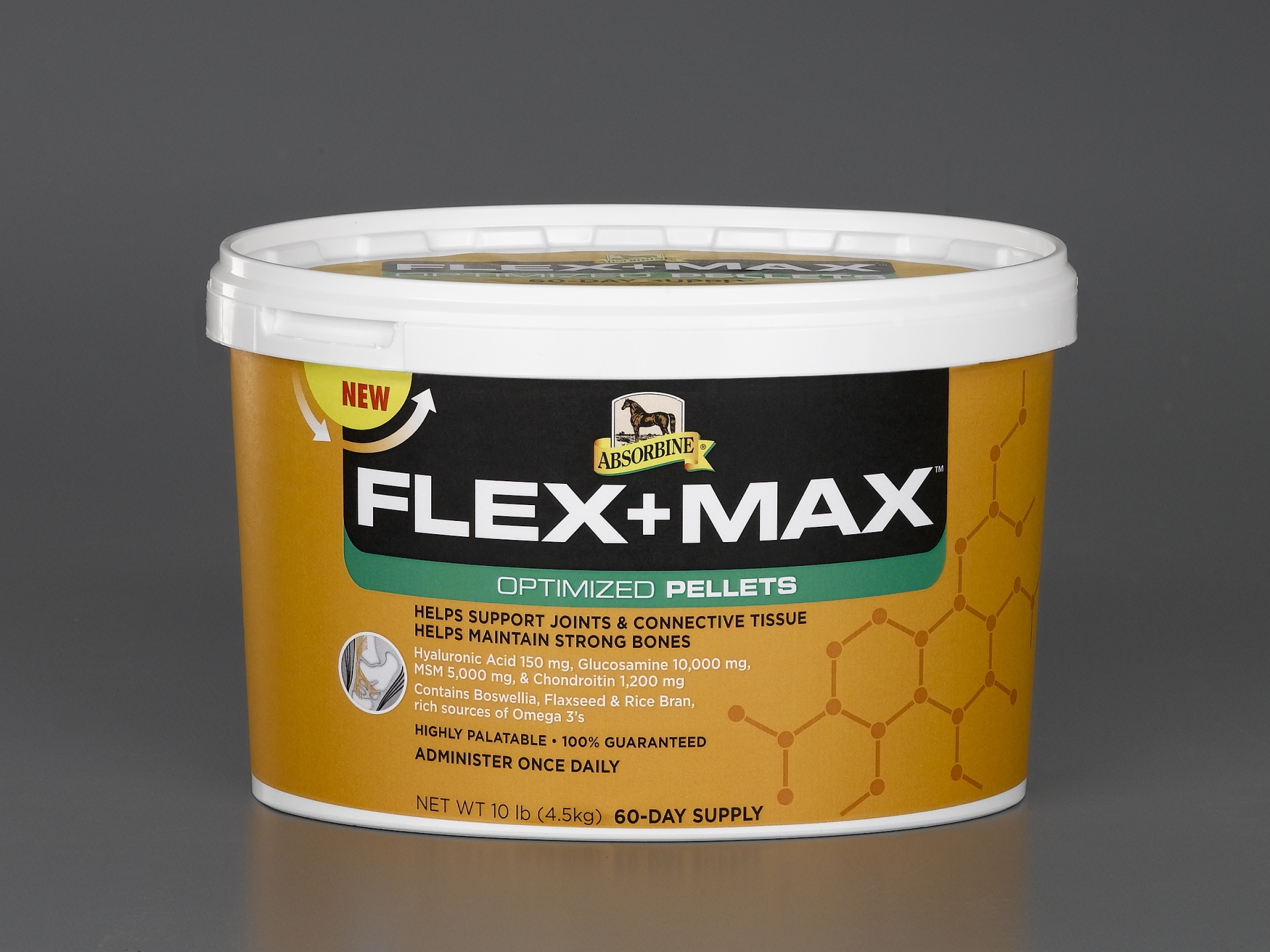 Absorbine Flex-Max
​This is a great overall product for mobility.  It includes glucosamine, MSM, HCI, HA, Boswella, Flax Seed & Rice Bran.  With Fenugeek added for flavoring it makes it quite palatible.  The measuring scoop is also accuarate - making it easy for daily dosage.

Sizes available:  5 pounds (30-day supply)

                   and 10 pounds (60-day supply)
​Retail Price: Starts at $49.95 for 5 pound size
​Manufacturer:  Absorbine/W.F. Young

​For more product information click on the URL below

Where Does My Horse Hurt?
By: Renee Tucker DVM
Publisher:  Trafalgar Square
Pages:  174
Retail Price:  $26.95
This is a must-have book for anyone who owns a senior horse!  It outlines 27 body check-ups that the average horse owner can do on their own horse - in detecking soreness and injury.  It also explains normal range of motion (and what it looks like), and helps get to the bottom of those "mystery" lamenesses, or "just being off".  
​For more book information click on the URL below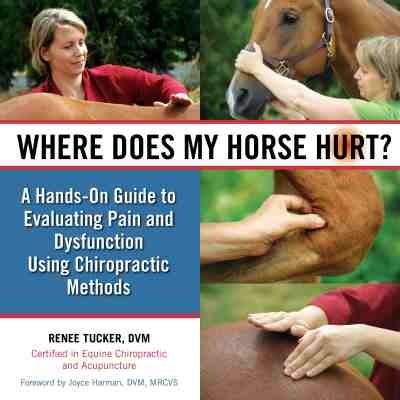 ​​

Omega Nibblers

 Low Sugar & Starch
​These low sugar/starch (they have 63% less sugar and starch then regular Nibblers) treats are a blessing for  horses that are insulin resistant and/or are very easy keepers. The heart shape of the treat, along with being fiberous (containing ground, stabilized flax seed, rice bran, beet pulp, and alfalfa meal), makes it easy to break it into smaller pieces.  There is no need for a knife (or other tool) to break them apart.  We liked this for two reasons:  with poor teeth or issues of choke you can feed the treat in smaller piece, and one treat can be broken into several pieces for use in stretching/suppling exercises with your horse.  We tested the treat on a 28-year-old with poor teeth and he was able to easily chew it up.  We also used it as incentive for a 17-year-old mare (who's an easy, easy keeper) to do her stretching exercises before her workouts.  Not only did she stretch farther than normal, she LOVED the treats and was looking for more of them.  It's nice to know that no extra sugar is getting into her diet by feeding these and I'm sure they will be part of her daily routine for the rest of her life.  The resealable bag is nice and keeps the treats quite fresh smelling.  When you open the bag it smells very wholesome - like when you open a new box of Kashi cereal.  It's also nice to know that with Omega 3, 6 & 9 horses are getting antioxidant benefits, and support for their immune system and haircoat.

​

Sizes:  3.5 lbs.  &  15 lbs.
​

Re

​
tail Price:  $24.95 ( 3.5 lbs),  $74.25 (15lbs.)
​Manufacturer:  Omega Fields

​For more product information click on the URL below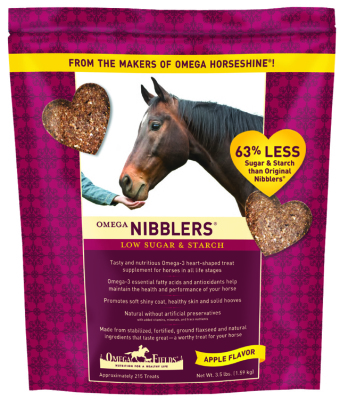 www.HorseandRiderBooks.com​
Aging Horse - Help Your Horse Grow Old

With Dignity & in Health

"Spotlight on Equine Nutrition Series"

By:  Juliet M. Getty, Ph,D

Pages:  43

Retail Price:  $14.95

This book was transcribed from Dr. Getty's TeleSeminar presentations and covers crucial information for the senior horse owner.  Dr. Getty frequently lectures on equine nutrition, and is the author of Feed Your Horse Like A Horse.  This book begins with a discusion of conditions that often affect the senior horse - including:  dental problems, obesity, decrease in digestion efficiency, and kidney/liver function, and arthritis.  She also discusses common senior horse disorders like Cushings, insulin Resistance, and more.  Dr. Getty offers guidelines for feeding, as well the use of supplements.  She also weighs in on vet exams, blood testing, and hay testing (all important when feeding a senior horse). The latter part of the book is devoted to horse owner questions-  ranging from water consumption, chewing problems and choke, ulcers and digestive upsets, and the use of pre and probiotics.  This book is a must have for senior horses - offering invaluable information on caring for them in their golden years.
For more book information click on the URL below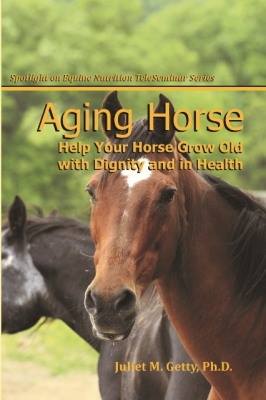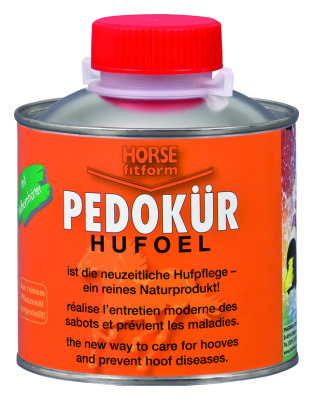 www.GettyEquineNutrition.com
​Pedocan Hoof Oil
We have heard about the German line (Pharmaka) of hoof products for a while, now - so we were quite eager to try Pedocan hoof oil.  In our testing, we found the oil quite easy to apply and it soaked nicley into the hoof wall and absorbed quickly.  The slightly thicker consistency of the oil (as compared to many other hoof oils) kept it from dripping all over the place.  In addition, being almost clear in color, it did not stain the concrete floor.  Twenty-four hours later the hoof wall still appeared to be moisturized. Furthermore, the hoofwall remained this way even after working horses out in a sand arena and walking through wet grass. The only downside is that there is not an application brush built into the bottle.  We used our own brush, which had to be removed to close the bottle in between applications. 
Sizes:  500ml.  &  1 Liter
​Re​tail Price:  $12.95 ( 500 ml),  $19.95 (1 Liter)
​Manufacturer:  Pharmaka

​For more product information click on the URL below
​

By:  Susan Kauffman & Christina Cline
Pages:  312 pages   408 photos/diagrams
Publisher:  Trafalgar Square
Retail Price:  $39.95

This book is a one-of-a-kind comprehensive study of the hoof - from the internal/external anatomy  to diseases, diagnosis and treatment/care.  Very helpful is a chapter on angles, balance and toe length.  Other chapters are devoted to common problems like cracks, bruises and abscesses.  This book also includes an entire section devoted hoof related diseases: laminitis, navicular, sidebone, ringbone, and pedal osteitis.  Another section covers creating healthy hooves, and  the barefoot horse.  Mules, donkeys, draft horses and miniature horses are also covered in their own chapter.  In addition there is a nice inclusion of resources - from veterinarians/specialists to associations devoted to the study/research of various hoof diseases like laminitis.
What we really like about this book is that it includes so many photos (including x-rays) that help to show the internal make-up of the hoof as well as changes in an unhealthy hoof (laminitis/navicular).  Diagrams help to take the mystery out commonly misunderstood things like proper hoof angles and toe length.  With its spiral bound format this book can easiliy be kept in the barn/tack room for reference and comparison to illustrated/photographed examples and what horse owners see with their own animals.
For more book information click on the URL below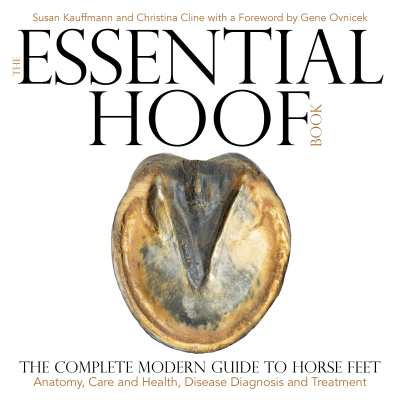 www.englishridingsupply.com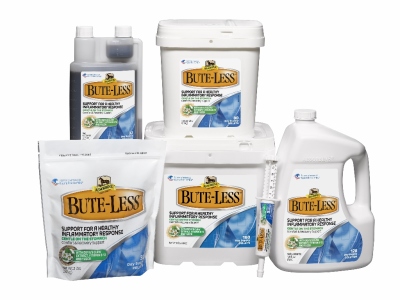 ​This is a great alternative to traditional Bute for the use in alievating pain and inflammation.  With Yucca and Devil's Claw (popular herbs for inflammation) and B-12 (helps with energy) we saw a a good, overall comfort level with the senior horse is was tested on. The apple flavoring, along with the alfalfa meal made it quite palatable and it did not require any tricks (like adding applesauce) to get our tester horse to eat it.  The directions for dosing were clear and the scoop for measuring was the right size for dosage.  The resealable bag is a great feature and helped to keep the supplement fresh.  What is really nice about this product is that for our very arthritic senior horses that need a daily prescription NSAID regimen,  Bute-Less could be given mid-day (without worry of overloading their system with painkillers) to help with their mobility on days that were really damp and cold.
​Sizes & Suggested Retail Price
​30g   Paste (3 doses) - $10.95
​128 oz. Solution - $89.95
​Manufacturer:  WF Young (Absorbine)
​For more information click on the URL below
www.HorseandRiderBooks.com​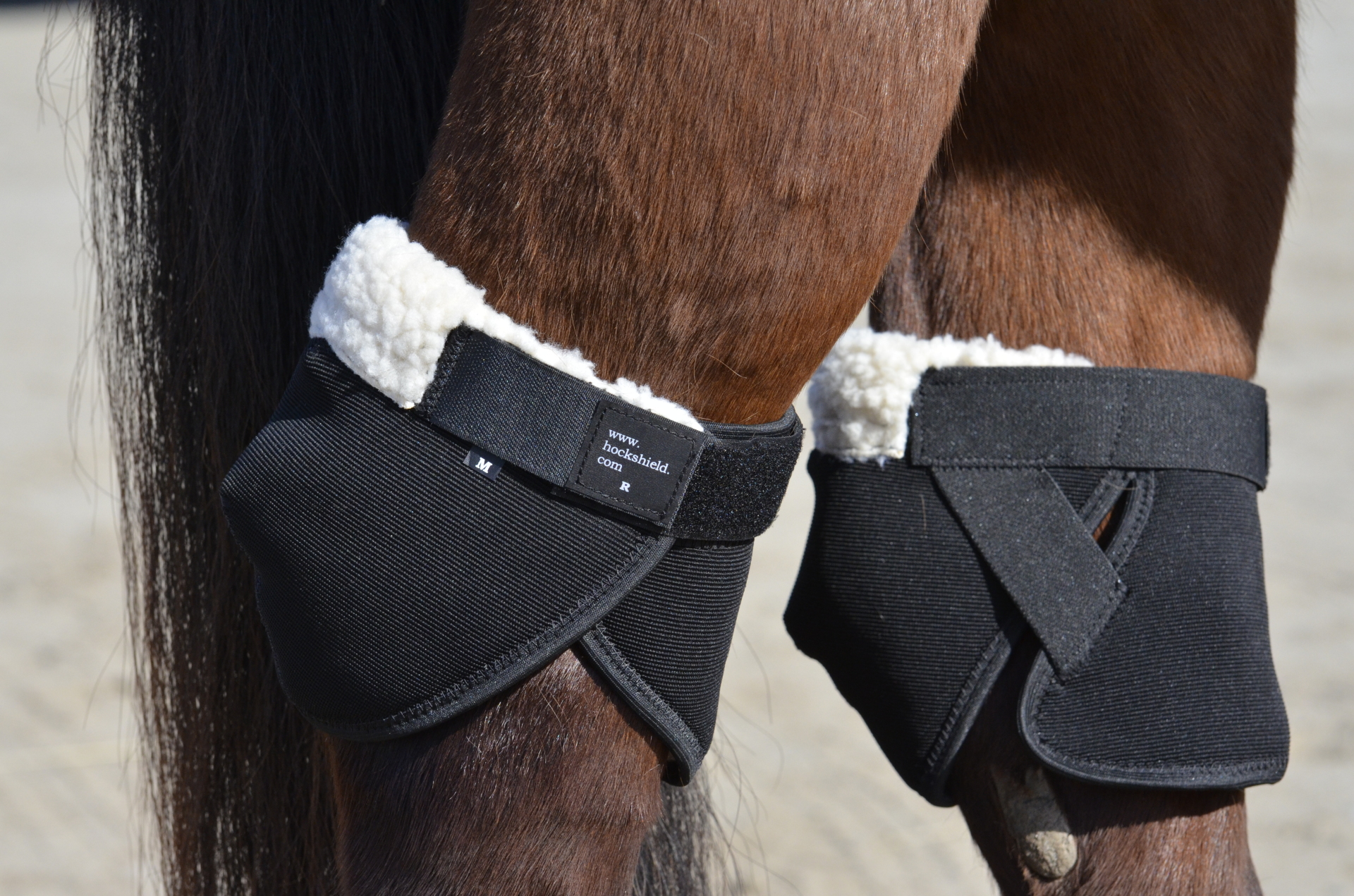 ​Hock Shield Ultras

​This product is a must have for anyone who has a horse that rubs sores on their hocks!  Not only do they stay on, they helped to heal up sores on our show mare's hocks in two weeks.  Even though this mare's stall is deeply bedded- overnight she often pushes the bedding around so there are exposed rubber mats.  Over time pushing off from the bare mats had developed small hock sores.  We also used the shields while hauling our horse and believed they helped to give support to the hock that normally abuts the wall of our slant horse trailer.  In addition, the guards were nice to put on this mare while stalled at horse shows - especially when stabling on cement,  They also protected her hocks from making contact with the wall when she occassional kicked at the horse stabled next to her.  They are well constructed - made with an outer shell of neoprene and an inside of double-lined fleece.  The heavy duty velcro closures allow for an adjustable fit and also keep the guards in place.  We also hand washed them and they washed out well and kept their shape.
  The hock guards will be part of this mare's nighlty regimen for the rest of her life; they are well worth the investment.
S
izes & Suggested Retail Price
​Manufacturer:  Click Horse Products, Inc.
​For more information click on the URL below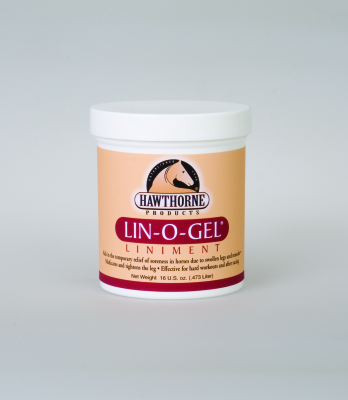 Lin-O-Gel

We used this on our show mare, prior to her workouts, applying it to a front knee that has shown some stiffness from arthitis.  We were quite pleased with the consistancy of the product - it's not too thick, nor is it runny.  This makes it easy to apply to the area where it's needed.  Even though it contains camphor and menthol, it was not overly strong in smell; nice both for not having a tell-tale sign of use while in the show pen, and in washing it off of our hands.  The mare appeared to move more freely with the use of the product.  While the hair at application site did dry a little stiff, it brushed out nicely and did not cause any scruff or irritation.
​Sizes:  16 oz.
​Re​tail Price:  $11.00
​Manufacturer: Hawthorne Products

​For more product information click on the URL below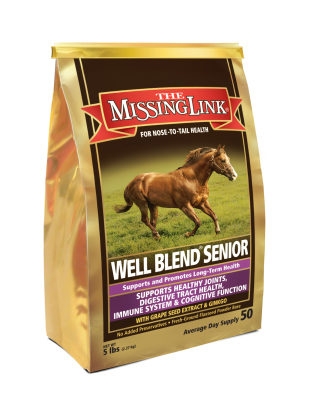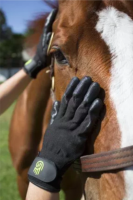 Missing Link Well Blend Senior

We were thrilled with the results this supplement had on our 29-year-old senior horse. With Omega 3, Grape Seed Extract, MSM, and Glucosamine his mobilty improved - even through some sub-zero winter temperatures this winter.  We also noticed that his manure was a better consistency - likely due to the added probiotics, which help to support the digestive system.  What was most astonishing, however, was the change in his attitude and alertneness  (likely a result of the Ginkgo).  Prior to feeding this supplement he seemed to be a little out of it.  This is not the case now.  He's standing taller, moving around more, and isgenerally more "with it" than he's been in years!  The directions for dosage were easy to follow and our horse readily ate the supplement when it was added to his grain ration.
​Sizes:  5 lb. (a 50-day supply)
​Re​tail Price:  $69.99
​Manufacturer: Absrobine/ W.F. Young

​For more product information click on the URL below

www.hawthorne-products.com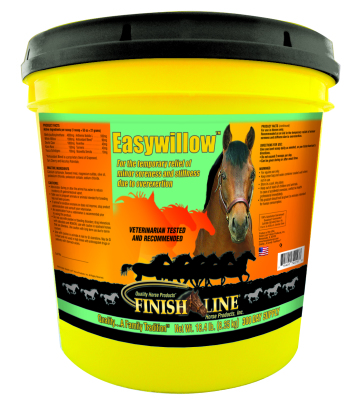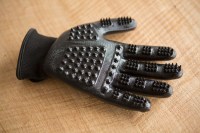 ​HandsOn Gloves
​These wet/dry gloves are outstanding not only for bathing horses, but also for shedding hair/grooming, and for massage.  They are a must have for anyone who believes in the benefits of massge therapy for their horses.  While there are other "massage" items out there, most are clumbsy to use and poorly made.  Not these!  They are well made and stay secure while using - becuase they fit (like a glove) and they also have a velcro closure at the wrist. The breathable nylon topside ensures that your hands won't get too warm, while the underside (covered with rubber nodules, are patterned over pressure points (like your palm) for a deep massage effect.  We used these gloves prior to working out our show mare (who has extreme muscle tightness in the shoulders and over the pelvis and hips areas).  The result was miraculous!  She moves as well as she does after receiving  45-minute session with the professional equine massge therapist, who works on her during show season. We will definately have a pair of these in our grooming pail both at home and another for our out-of-town horse show supplies.
Sizes Available:  Jr., S, M, L, XL
Retail Price: $25 (a pair)
​For more information click on the URL below
This is great alternative to Bute.  White Willow has long been used by herbalists instead of aspirin.  We tested this on a 29-year-old with advanced athritis.  He remained very mobile while on it- and feeding just one scoop daily.  You can feed up to two scoops per day.  The dosing instructions were easy to follow, and the scoop matched the right dosage.  It was also quite palatable and did not appear to cause any digestive upset, or change in the consistency of his manure.  In addition to White Willow - Devil's Claw, Yucca, Kava Kava, Tumeric, Boswella, Grapeseed, and Tart Cherry are included.  All of these are known to help with joint and athritic discomfort.
​​Sizes & Suggested Retail Price
1.8 lb   - $30.54
3.7 lb.  -  $51.49
18.4 lb. - $203.20
​Manufacturer: Finish Line Horse Products
​For more information click on the URL below


Herbal Bute
This product has a great blend of herbal ingredients (Devil's Claw, Cat's Claw, White Willow, Meadowsweet, and Yucca).  Individually, each one of these herbs would be beneficial. And combined, the result is awesome!  The added peppermint flavoring made it very palatable . . . . there was no sifting of our horse's ration to separate the herbal bute from the grain - as is the case with some herbal products.  Our tester horse (who has huge, arthritic knees) did quite well on the Herbal Bute and required no additional NSAIDs.  He actually cantered out to his pasture on several occasions!  Again, this is a nice product to have on hand for horses that normally need Bute or Banamine to stay mobile - either to use for added support if you're arleady at your max NSAID dosage.  Used alone, it's a nice break from a NSAID regimen.  And for horses with mild arthritis/inflammation it's a better choice to use on a longterm basis with minimal risk for side effects.
​Sizes & Suggested Retail Price
3b      Pellet s-  $62.00
5 lb.   Pellets  - $87.00
10lb.  Pellets - $155.00
​Manufacturer:  Equine Science
​For more information click on the URL below



Senior-Flex

This is a good basic joint supplement and is very afforable for all that it provides. There is a nice mix of ingredients for joint heath and stiffness - including MSM, Glucosamine, Chondroitin Sulfate, Ester-C, and Yucca. Our test horse did quite well on this during some extreme weather changes this winter.  Actually, most days she moved quite well - despite having arthitis in her hocks.  
In powder form, this supplement mixed nicely with grain rations.  The pleasant smell also helped with the palatability of a picky eater!   
We aslo liked the addition of probiotics and rice bran - for digestive health.  In addition, the dosing instructions were accurate and easy to follow.

​Sizes & Suggested Retail Price
5 lb.   Pellets  -   $82.25
10lb.  Pellets -  $157.90
20lb.  Pellets  - $299.90
Manufacturer:  Met-Vet Pharmaceutical
​For more information click on the URL below
​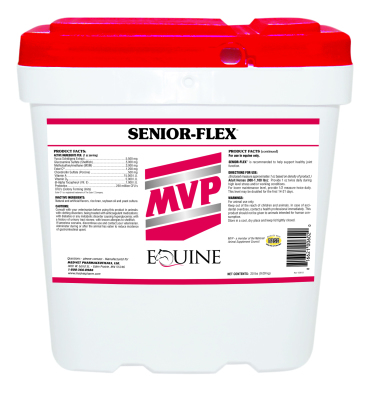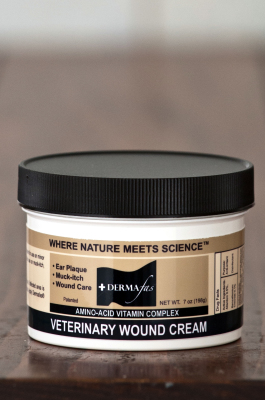 ​Dermafas - Wound Care Cream

We were amazed with this product for its capability to heal some old, longtime dermatitis patches on a 28-year-old horse.  For several years nearly every wound product on the market  had been used on these spots, and nothing worked.  It was emabrrassing to have these spots (several vets called them bed sores) as our horses rarely have a cut or a mark on them.  I also didn't like the fact that despite meticualous grooming and care of this animal's coat - several times a year these sores would get inflammed and bleed.  In just two weeks of using this product the sores healed up and I am shocked to say that new hair is growing in.  I wouldn't believe it if I had not done the testing myself - as we have tried more then one dozen salves, creams, sprays, and shampoos to get these healed up.  And after so many years of the areas being hairless, I wouldn't have thought any hair would grow back.  I also like the consistency of this cream.  It was easy to apply and it can be kept in unheated barns during the winter without freezing or getting too thick to apply.  This cream is a combination of amino-acid vitamin complexes, and also includes Tea Tree Oil and Rosemary Oil (both great for fighting infections).  It is recommended for wounds, buirns, bites, muck-itch and ear plaques.
Sizes & Suggested Retail Price
7 ounces - $16.95
​Manufacturer:  NunnFiner Products
​For more information click on the URL below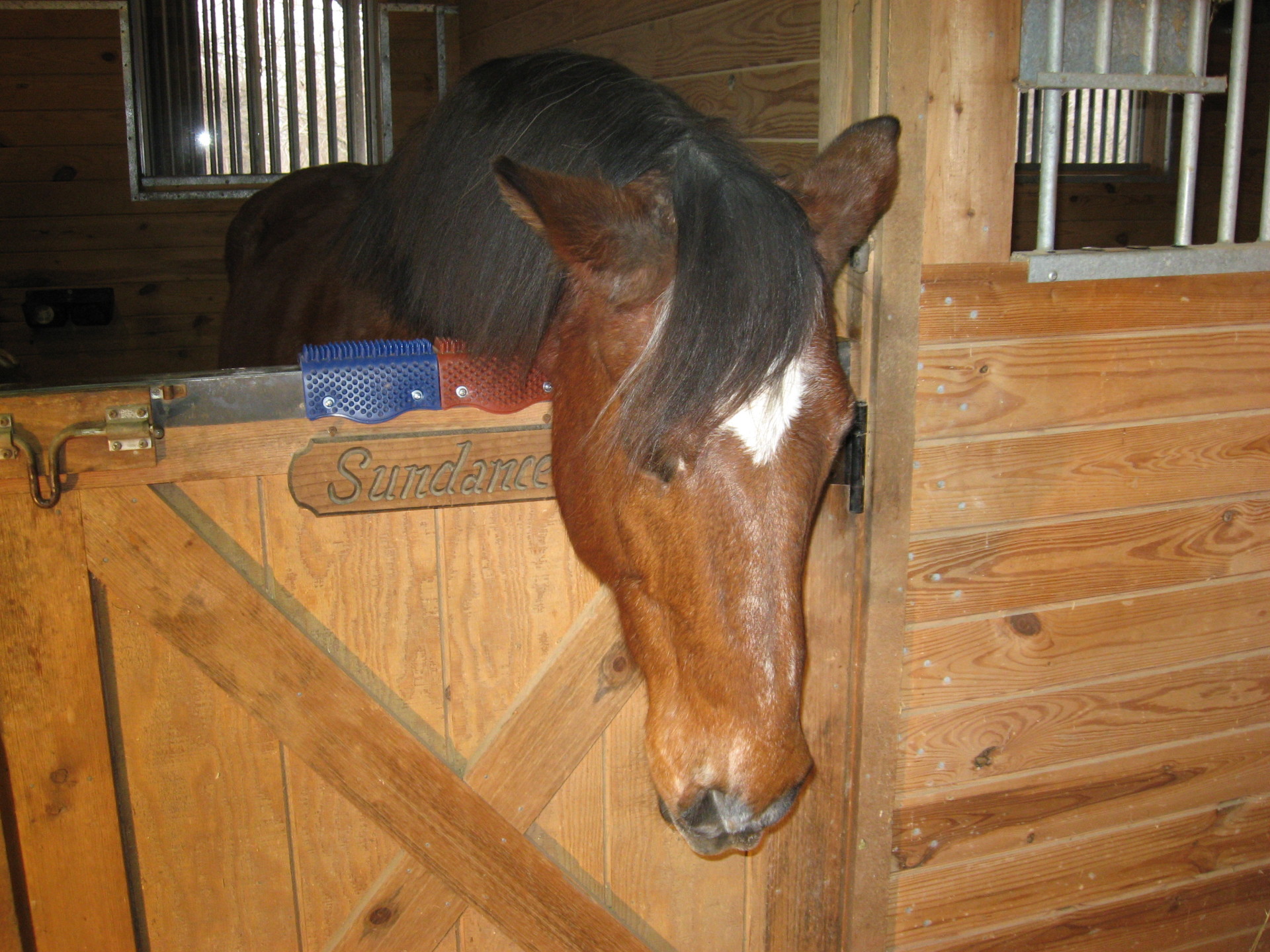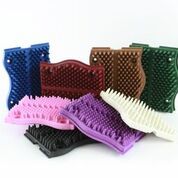 (self-enriching, scratching & grooming pad)
​These interlocking, rubber scratch/grooming pads offer a safe place for horses to scratch themselves on.  With a similar surface as a rubber grooming curry, these pads (each are 5" x 6" x 1") are well-made and fit nicely together - so that can be intelocked to cover a larger area.  With a pre-manufactured bend - they fold nicely over a top door of a stall, and around corner posts in stalls.  We really appreciated the fact that they came with pre-drilled installation holes, extremely clear installation instructions, and stainless steel screws and washers!  They are also available in a variety of colors.
​We mounted three of these pads on a cornerpost in the stall of an older senior horse.  This horse had previously used the door to rub his neck and ears.  Within minutes of finding the pads he started to use them as a scratch area - instead of the door!  It's made the barn quieter (now he's not rattling the door), and he seems much happier when stalled!
​These pads are also American Made!
$16.95 (each)
Manufacturer:  Animet
​For more information click on the URL below
​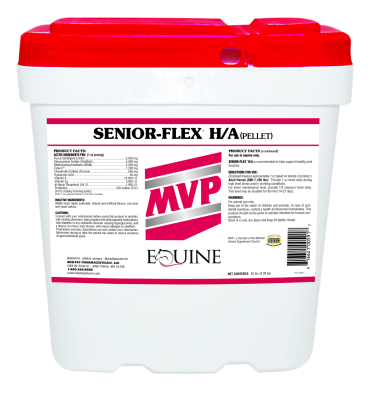 ​Senior-Flex H/A

​This senior supplement with added HA tested well on our show mare.  Not only did she continue to move well on this supplement's combination of MSM, Glucosamine, Ester-C, Chondroitin Sulfate, and HA,  the added Yucca offered some pain/infalmmation relief on the damp fall/winter days that occured during the testing period.  Her eating habits also appeared to slow down - likely due to the added probiotics, which help with digestive health and possible ulcers.  Not only was the supplement highly palatable (there was no sifting of grain while she ate her ration), the enclosed scoop was appropriate for the dosage specified.
​Sizes & Suggested Retail Price
5 lb.   Pellets  - $99.95
10lb.  Pellets -  $190.75

20lb.  Pellets  - $357.50
Manufacturer:  Met-Vet Pharmaceutical
​For more information click on the URL below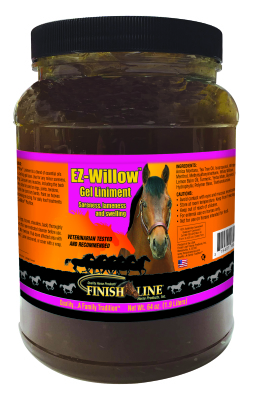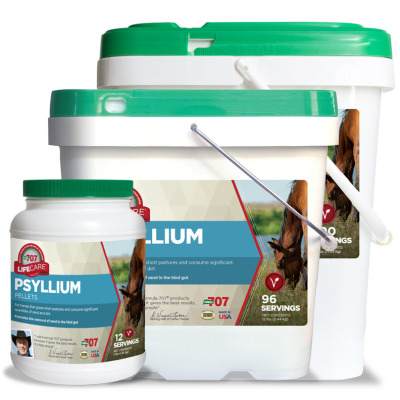 ​​

We were quite pleased with these pellets.  As for a sand preventative product it was amazingly easy to feed. The psyllium seed husk is In pelleted form and flavored with molasses.  The pellets mixed nicely with grain rations and required no wetting.  They were highly palatable and horses did not sift them out from their grain.  Unlike feeding psyllium seed husk (which needs to be wetted so it can't be sifted from grain) these pellets did not stick or bind up on our horse's teeth.  We also liked that the instructions for dosage was clear and easy to follow.


​Sizes & Suggested Retail Price
3lb.   Pellets  - $24.95 (12 servings)
12lb.  Pellets -  $80.95 (48 servings)
25lb.  Pellets  - $162.95 (100 servings)
Manufacturer:  Formula 707
​For more information click on the URL below
EZ Willow Gel Liniment
​This is a great liniment for both the backyard horse, and especially for the show horse.  We used this prior to workouts with an 18-year-old show horse that has a capsule on her knee.  We found that after applying the gel she moved better and when asked for more strenous movements - she did not grunt as sometimes happens when she moves that leg quickly.  What we also liked about this product is that as a gel it isn't as messy to apply as traditional limiment.  We also liked the pleasant smell.  With traditional liniments you can smell a horse that's been rubbed down with it; not something you want to have in the show pen. 
We will definately use this prior to this mare's classes this show season.  Among the ingredients are:  White Willow, Arnica, Tumeric, MSM and Menthol - all of these are known to help with joint and athritic discomfort/pain.
​​Sizes & Suggested Retail Price
4 oz -       $6.05
128 oz. - $84.53

​Manufacturer: Finish Line Horse Products
​For more information click on the URL below
​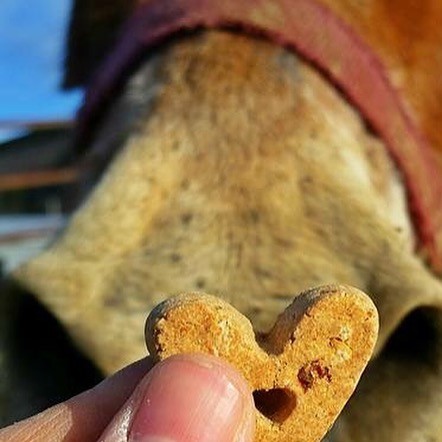 Enjoy Yums Equine/Canine Treats
​​
We LOVE these treats for two main reasons:  they're all natural, and they are small/easily palatable.  Our seniors horses will not be without these treats because they are a low-sugar treat alternative and they are sooo easy to feed.  The small heart shape makes them easy to break if you want to use them for stretchig exercises.  Otherwise, their small size allows feeding without the worry of choking. All three flavors contain stablized rice bran and oat flour/rolled oats, and unsweetened apple sauce/juice.  Additional flavoring is natural (honey/peppermint oil) in the Mint treats, (carrots/cinnamon) in the Carrot treats, and (molasses/unsweetened applesauce) in the Apple treats.  Other pets can eat them, too!.  Packagaing is different for the canine treats, but the ingredients are the same.
Flavors:  Apple, Carrot, Mint.
​Sizes & Suggested Retail Price
1 lb.   Bag - $8.95 
5 lb.   Bag - $24.95
20lb.  Box - $89.95
Manufacturer:  A Little Pet Vet LLC
​For more information click on the URL below